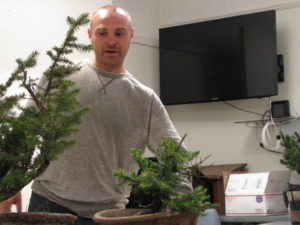 Coming soon, another awesome weekend with Todd Schlafer, one of the best new Bonsai artists in the US. 
Todd is a master of collected, native mountain trees.  To name a few, Colorado Blue Spruce, Rocky Mountain Juniper and Douglas Fir, etc.
As a collector and accomplished artist his knowledge base is broad and continues to grow each year as he adds new experiences, both here and abroad.
We are excited that he will once again share that knowledge with us, as he guides his audience through demonstrations and students and observers through classes.  We are proud to host such an amazing teacher.
This will be held at the Loose Park Garden Center, Fern Room (see schedule for more detail)
If you are interested in participating in this weekend event, and are not an member, please use the site's contact form for more information.