Once again we will welcome Bonsai Professional Todd Schlafer to Kansas City, MO!  Special event September 15 and 16! 
Members will enjoy a full day of activities on September 15 with this accomplished artist, international demonstrator and amazing instructor (and all around great guy)!
Members who preregister will also be able to participate in a class as a student or as an observer (opportunities available for the 15 and 16).  For more information see the schedule or use the contact page.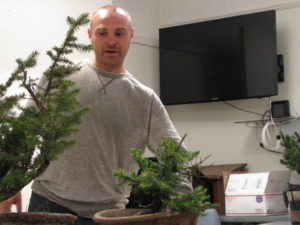 Above, 2017: Todd discussing collected Rocky Mt. Spruce species and their use in Bonsai